Economy and Society in the Time of Coronavirus
Edited by Didier Fassin and Marion Fourcade
For people and governments around the world, the onset of the COVID-19 pandemic seemed to place the preservation of human life at odds with the pursuit of economic and social life. Yet this simple alternative belies the complexity of the entanglements the crisis has created and revealed not just between health and wealth but also around morality, knowledge, governance, culture, and everyday subsistence.
Didier Fassin and Marion Fourcade have assembled an eminent team of scholars from across the social sciences conducting research on six continents to reflect on the multiple ways the coronavirus has entered, reshaped, or exacerbated existing trends and structures in every part of the globe. The contributors show how the disruptions caused by the pandemic have both hastened the rise of new social divisions and hardened old inequalities and dilemmas. An indispensable volume, Pandemic Exposures provides an illuminating analysis of this watershed moment and its possible aftermath.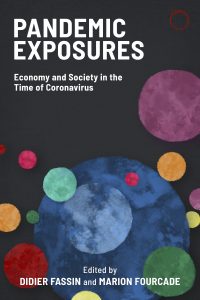 "The pandemic should be read as an eye-opening phenomenon, and this is precisely how it is addressed in this outstanding collection."
— Arnaud Orain, author of La Politique du Merveilleux: Une Autre Histoire du Système de Law, 1695-1795
"This balanced and sober exercise provides a long list of very convincing insights to be gained from the first eighteen months of the pandemic."
— Richard Rottenburg, author of Far-Fetched Facts: A Parable of Development Aid
"The vital contribution of this volume is that it insists on specificity. It paints a global picture from the ground up, attending to situated empirical particularities."
— Kaushik Sunder Rajan, author of Pharmocracy: Value, Politics and Knowledge in Global Biomedicine
"Combining sharp theoretical insight with gripping on-the-ground accounts, Pandemic Exposures gifts us with a pathbreaking social analysis of COVID-19's impact. Its formidable editors, Didier Fassin and Marion Fourcade, along with an international and interdisciplinary team of scholars artfully decipher the pandemic's paradoxical political, moral, and relational worlds. The book's discoveries will surely shape future research while also captivating all readers eager to understand COVID's upheavals."
— Viviana A. Zelizer, author of Economic Lives: How Culture Shapes the Economy
Didier Fassin is the James D. Wolfensohn Professor of Social Science at the Institute for Advanced Study in New Jersey and Director of Studies at the École des Hautes Études en Sciences Sociales. He was the Annual Chair of Public Health at the Collège de France in 2020-2021. He is the author of many books in the fields of medical and political anthropology, including Life: A Critical User's Manual.
Marion Fourcade is Professor of Sociology at the University of California, Berkeley. She is the author of Economists and Societies: Discipline and Profession in the United States, Britain and France, 1890s to 1990s and has published widely in the fields of economic sociology, culture, and science and technology.
---
2021
6″ x 9″, 474 pp.
$35 paperback
Buy this book from The University of Chicago Press
---
Pandemic Exposures
Introduction: Exposing and Being Exposed
     Didier Fassin and Marion Fourcade 
Part I. Political Economies
Chapter 1. Meet the New Normal, Same as the Old Normal: The State-Market Balance and Economic Policy Debates After the Pandemic
     Ravi Kanbur
Chapter 2. No Epistemological Standstill on Sovereign Debt: The Preservation of the Market Order in Pandemic Times
     Benjamin Lemoine
Chapter 3. Ad Hoc Generosity in Times of COVID: A Chronicle of Plights, Hopes, and Deadlocks
     Lena Lavinas
Chapter 4. Gifts, Grifts, and Gambles: The Social Logics of the Small Business Administration Relief Loan Programs
     Sarah Quinn
Chapter 5. Central Bank Planning for Public Purpose
     Benjamin Braun
Chapter 6. Authoritarianism and Pandemics: China, Turkey, and Hungary
     Latif Tas
Chapter 7. Stretching Time: COVID and Sudan's Current Transitions
     Rebecca Glade and Alden Young
Part II. Moral Economies
Chapter 8. The Moral Economy of Life in the Pandemic
     Didier Fassin
Chapter 9. To Kill or Let Die: How Americans Argue about Life, Economy, and Social Agency
     Webb Keane
Chapter 10. Protecting the Elderly or Saving the Economy? Turkey's Ageist Lockdown Policy during the COVID Pandemic
     Başak Can and Ergin Bulut
Chapter 11. Reflections on Mutual Aid
     Z. Fareen Parvez
Chapter 12. Carceral Contagion: Prisons And Disease
     Wendy Warren
Part III. Everyday Economies
Chapter 13. Agricultural Day Labor in Spain: The Logics of (Pandemic) Capitalism
     Susana Narotzky
Chapter 14. Making a Living, Resisting Collapse, Building the Future: Livelihood in Times of Pandemic and Lockdown
     Isabelle Guérin, Nithya Joseph, and G. Venkatasubramanian
Chapter 15. Crisis as Preexisting Condition: Yemen Between Cholera, Coronavirus, and Starvation
     Nathalie Peutz
Chapter 16. Searching for Life in Times of Pandemic
     Federico Neiburg and Handerson Joseph
Part IV. Knowledge Economies
Chapter 17. The Great Online Migration: COVID and the Platformization of American Public Schools
     Marion Fourcade
Chapter 18. "CBDCs Mean Evolution, Not Revolution": Central Bank Digital Currencies in the Time of COVID
     Horacio Ortiz
Chapter 19. Modeling Pandemic
     Fleur Johns
Chapter 20. The Pandemic Economy of Face Masks: From Critical Shortage to Fashion Accessory and Political Statement
     Virág Molnár
Chapter 21. COVID and the Death Drive of Toxic Individualism
     Ed Cohen