Edited and introduced by Lawrence Rosen
---
Originally published in 1979, Clifford Geertz's essay on the Moroccan bazaar is a classic ethnographic account of the interplay of economic, social, and religious lives in the bustle of transaction. Drawing on years of fieldwork in the Middle Atlas town of Sefrou, Geertz explores how actors from diverse backgrounds assess the worth and meaning of other people's wares, words, and ways of doing business. He shows how the search for market information, so central to the theorisation of markets by economists, is here based on careful appraisals of social relations, embedded in understandings of the broader institutional environment of the market town and its hinterlands. With a richness of insights procured for generations of readers, Geertz's essay on the sūq is a model of and for the craft of ethnographic theory. Long out of print, it is republished here in a stand-alone edition introduced by Lawrence Rosen.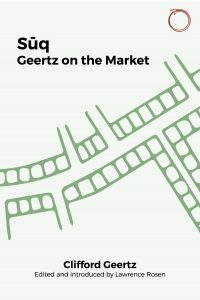 Clifford Geertz (1926-2006) was the Harold F. Linder Professor of Social Science at the Institute for Advanced Study in Princeton. One of the 20th century's most notable anthropologists, he was the author of many books on the cultural study of economy and society.
Lawrence Rosen is the William Nelson Cromwell Emeritus Professor of Anthropology at Princeton University. He is the author of Law as Culture: An Invitation, among many other works of legal and political anthropology.
---
2022
 Download PDF (Soon!)